Sterling Silver Filigree Hanukkah Menorah Jewish Lamp H5, Israeli Made, Judaica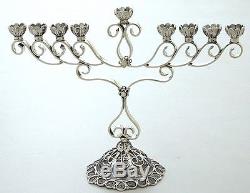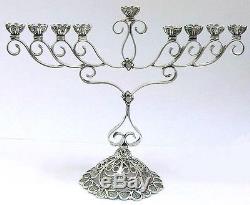 Modern Oriental Design with Ancient Jewish Yemenite Filigree Artwork. Brand New, handcrafted In Israel.
This lovely 925 Sterling Silver Hanukkah Lamp is crafted in a small workshop in Israel, designed with scrolled oriental ornaments. Artwork on the candle holders and base. Delicate lacework design, floral candle holders and scrolled shapes, with a sturdy round stylized base. 8 candle holders in a straight row (according to the Jewish Halacha religious laws) with the Shamosh (servant light) elevated in the center.
Beautiful Judaica/Jewish gift, very nice for display. 4.7 x 6.0 inch / 12 x 15.5 cm. 2.8 ounce / 80 gram. This design is also available in a larger size in our store.
Israel, arrival time about 2 weeks. The Jewish Yemenite Filigree Art was developed by Jewish silver and gold smiths in ancient Yemen, and is related to Judaism and Judaica, being used particularly for religious holy occasions like marriage, engagement and more. This technique was commonly practiced in Yemen and in the art school BEZALEL located in Jerusalem - Israel (established in 1906). Today very few craftsmen are practicing this wonderful skill, most of them passed away or moved to practice a more modern line of work, therefore real handmade filigree items are fairly hard to find. Find a special gift Unique art works & gifts, handmade by Israeli artists Vintage antiques & collectibles from the early days of Israel. We are a small team dedicated to your service and always want to make sure that you are happy. If you're not satisfied - we're not satisfied. All orders are insured for loss or damage. Wrapping and packing are done with great care, to ensure safe arrival of the goods. We appreciate your help and patience.
When contacting us please mark "I have a question about item". If you need more time please let us know in advance. Similar spelling: Chanuka Jewish Festival Holiday Filigrane filigee filigrana filigran filigrann grain granulation lacework yemen yemenite judaica judaika Israel Judaica Kreisel draydl dreidl dreidl kreisel Judaism Art Israeli Artists hand made handcrafted designer Artisan hanukkah Lamp Hanukkah Kreisel top dreidel, Sevivon Dreidel Hanukka gift, present, , festival, Hanouka, chanukah Chanukka Menorah Artistic candleholder Candelabra Candelabrum Holy Jewish Temple in Jerusalem Beit Ha-Mikdash, Mered Hachashmonaim Maccabees Matityahu, Yehuda Maccabi olive oil jar Pitcher Antique Menora chanukkah hanuka Hanukah Hanoukka Lichterfest hanouca Greekshanoucca candlestick hanukkiya hanukkiyah Hanukiya, Greeks Syrians Greco-Romans Antiochus Menorah Hanerot Halalu Kodesh Hem Hanukkah Miracle Nes Pach Hashemen, 1911. The item "Sterling Silver Filigree Hanukkah Menorah Jewish Lamp H5, Israeli Made, Judaica" is in sale since Thursday, November 14, 2013.
This item is in the category "Collectibles\Religion & Spirituality\Judaism\Menorahs". The seller is "artfromisrael" and is located in Thank you for looking. This item can be shipped worldwide.
Country/Region of Manufacture: Israel
Religion: Judaica
Product Type: Menorahs
Type: Yemenite Filigree Lacework
Material: Solid Silver
Metal: 925.Sterling Silver
size: 4.7 x 6.0 inch / 12 x 16 cm
Item: hanukah menorah, candelabra

---