Sterling Silver Leeuwenhoek Microscope Antique Hand Made Reproduction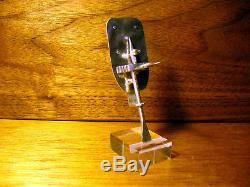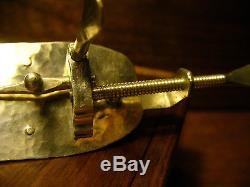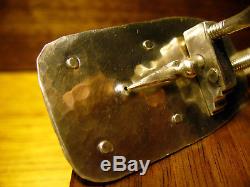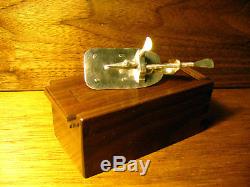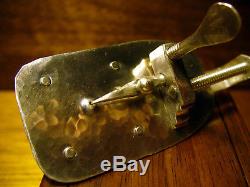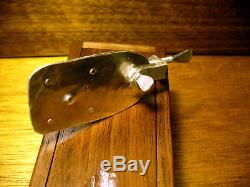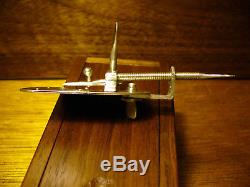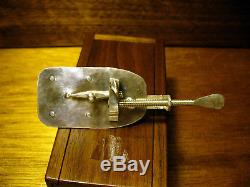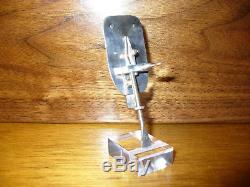 Leeuwenhoek Single Lens Microscope Solid Sterling Silver Over three hundred years ago, Antonie Van Leeuwenhoek crafted his own microscopes and used them to make the very first observations of microbes; for this he is known as the Father of Microbiology. He made his simple microscopes in his modest shop, using tools and methods of the time.
He even made the lenses, carefully shaping and polishing them by hand. Although crude, his breakthrough microscopes were the best made up to that time. The microscopes for sale here are made in my basement shop, in Pennsylvania, using tools and methods very similar to Leeuwenhoek's.
I make many of my own tools, I anneal, hammer, cast, and forge my own silver parts. Each hole is punched with a sharpened old nail. Each rivet is cut with a hand made chisel and hammered in place.
I made my own thread swaging tools so I could match the screw threads of the Leeuwenhoek's microscopes. I grind the biconvex lenses to shape, and polish them against homemade laps with grit I refine from dirt myself. Despite their primitive origins, these microscopes can be used to make real microscopic observations.
Leeuwenhoek made many silver microscopes, but most have been scrapped for their precious metal value. Very few silver Leeuwenhoek microscope reproductions are available. The silver I use for these microscopes has been in my family since my silversmith grandfather bought it from Handy and Harmon almost a hundred years ago. I have been an amateur silversmith for forty years, and my unrefined style is a perfect match for producing these simple, yet beautiful and functional reproduction microscopes.
When Antonie Van Leeuwenhoek made his simple microscopes, he was intent on viewing his specimens and recording his observations for the good of the science. He saw his microscopes as useful devices, not for their beauty or refined craft. They worked, they were simple, and he could make one and match it to a subject under study in a very short time. Leeuwenhoek would fasten his specimens to the pin, make his observations, and often put that microscope away with the specimen intact when he was done.
He would then make another microscope for his next observation. He made hundreds of these microscopes, with only a dozen or so surviving today. This is a working microscope with a magnification of 100x to 150x. It is an art to use these ancient microscopes, but when you get the hang of it, you can see amazing things. I have been able to photograph objects through these microscopes by holding my smartphone camera against the lens.
A small custom made shellac lacquered wooden box with "box joints" and a slide off lid, and a plexiglass stand are included with this microscope. It is a privilege to study a great man's work, to follow his path discovering his methods and motives, and then to reproduce something of what he produced. This beautiful silver microscope would make a perfect gift for a graduating biology student, or anyone in the medical field who loves history and old technology. See my "other items" for a shiny brass version..
Thank you, Justin Odhner, Scientific Instrument Maker Pennsylvania, USA. The item "Sterling Silver Leeuwenhoek Microscope Antique Hand Made Reproduction" is in sale since Monday, December 31, 2018. This item is in the category "Antiques\Science & Medicine (Pre-1930)\Scientific Instruments\Microscopes & Lab Equipment".
The seller is "jcodhner" and is located in Huntingdon Valley, Pennsylvania. This item can be shipped to United States.
Original/Reproduction: Reproduction
Maker: Odhner

---