8.2MM Solid 925 Sterling Silver Mariner 180 Chain Marina Necklace Made in Italy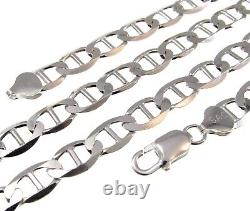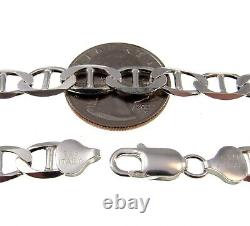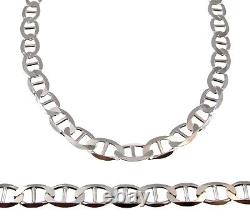 8.2MM 180 Gauge Solid 925 Sterling Silver Men's Italian Mariner/Marina Chain, Made in Italy. Choose Length: 10, 18, 20, 22, 24, 26, 28, or 30 Inches. Inspired by the sand and the sea, the marina necklace is a men's timeless classic. The mariner chain comprises interlocking oval links that have a bar directly down the center.
Unique and asthetically pleasing, our mariner chains come in a large variety of widths and lengths to suit every need. A truly unisex design, a mariner chain will enhance the wardrobe of both men and women. Made in Italy of the finest sterling silver, these chains connect with a sterling silver lobster clasp. I have included a photograph of the chain next to a quarter for size reference. Pair this cool chain with a pendant and show your inner renegade. 10"=17.5 grams, 18" = 30 grams, 20" = 35.5 grams, 22"=38.2 grams, 24" = 41.6 grams, 26"=44.9 grams, 28"=48 grams, 30"=51 grams. Composition: Solid sterling silver (quality stamped 925). Made in Italy (hallmarked "Italy"). Renegade Jewely has been in business since 1999 with an outstanding record of quality and service. All of our silver and gold jewelry will fire assay in excess of industry standards for purity. All of our gemstones are guaranteed genuine unless otherwise noted as lab created. Thank you so much for your business!

---