Hand Made Vintage Sterling silver Ring with Natural Opal size 7-1/2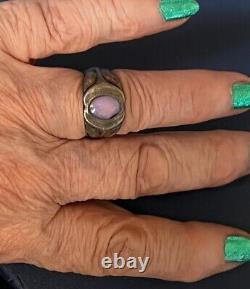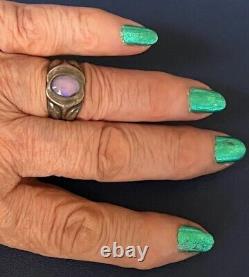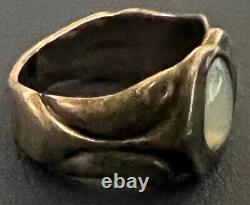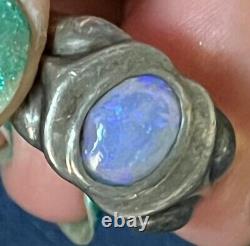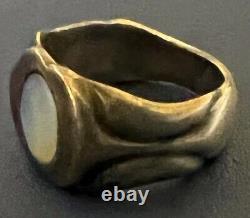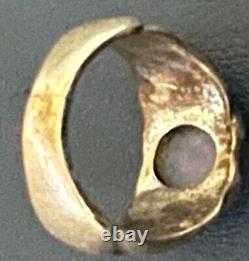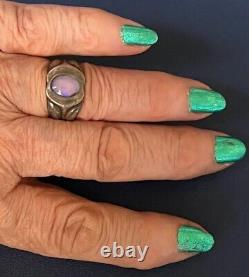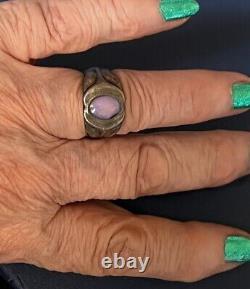 I'm offering a hand-made sterling silver ring with a lovely colored natural opal which does have a chip. Ring size 7.5 and width about 1/2 with a weight of 8.71grams.
L ovely, elegant and timeless. Great for the generations to come as well as the present. I've tried to keep the cost of these reasonable and I hope you appreciate that. The chip in the stone is very apparent in the magnified pictures but not apparent to the eye when worn. I've priced the ring well to allow for that defect, however.
Be sure to add me to your favorites list. Take a look at my store. Yes, I sometimes can take reasonable offers.
I care that you're happy and about my accuracy, and will always stand behind my work. My attributions are guaranteed for my lifetime. When I include pages from published books in my listings it is in accordance with Fair Use Law, which permits the use of source material for discussion, reference, education and criticism. Attributions on many of the old pieces of Native American jewelry are sometimes a moving target.
All the books have errors, so in addition to counterchecking, I have developed some expertise over the years and I do care about getting it right, so as more information comes to light I update my listings and also get in touch with my previous buyers, to inform them of any changes in attributions. Everything I sell comes from my personal collection or is something that I would include in my personal collection. I vet every item carefully for quality and condition, and offer you the best. I want you to be able to rely on me for top quality, superb items that are often unique and rare examples of old antique vintage southwest, indian, native american and fine gold and gemstones, whether you're starting a collection or adding to one, or want something great to wear or gift. My goal is that all my buyers are delighted, that my special pieces find the right homes.

---