Handmade Solid 925 Sterling Silver Balinese FOXTAIL Chain Necklace Made in Bali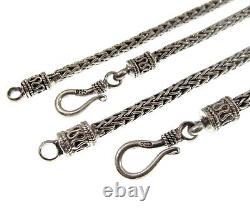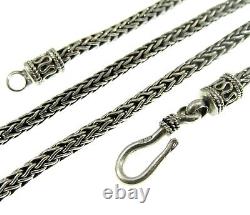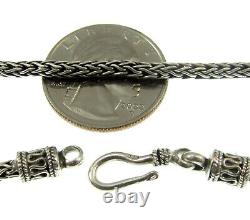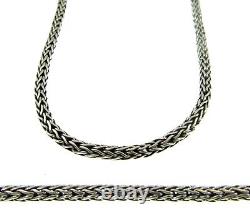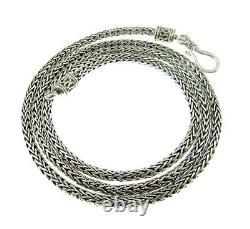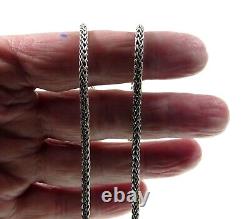 Handmade Solid 925 Sterling Silver Balinese Foxtail Weave Chain. Choose Width: 2.5mm or 3mm, Choose Length: 7"-30" Inches. Our chains are the highest quality 100% real, genuine, solid 925 sterling silver.
Our chains are never plated and never filled. Chains enclose with an S-hook clasp and are stamped 925 for purity. These gorgeous handmade Balinese chains feature a foxtail weave, a traditional design crafted in Bali for generations.
Skilled silversmiths handcraft these with a seamless design, and they are among the strongest chains available. The solid sterling silver chains are high polished with an oxidized finish. Super cool worn by themselves or with a pendant. Note: The endcap on these measures 4.5mm and 5mm respectively, so the bail of your pendant must be that large or larger to fit over the chain! I have included a photograph of the chain next to a quarter for size reference. Pair this chain with a pendant and show your inner renegade! Necklace Length: 7"-30" (you choose).
Necklace Width: 2.5mm - 3mm (you choose). 2.5MM: 7"=6.5 grams, 8"=7 grams, 9"=7.5 grams, 16"=12 grams, 18"=13 grams, 20"=14 grams, 22"=15 grams, 24"=16 grams, 26"=18 grams, 30"-21.5 grams. 7"=9.5 grams, 8"=10 grams, 9"=11 grams, 16"=16 grams, 18"=18 grams, 20"=20 grams, 22"=22 grams, 24"=24 grams, 30=30 grams. Composition: Solid Sterling Silver quality stamped. Renegade Jewely has been in business since 1999 with an outstanding record of quality and service.
All of our silver and gold jewelry will fire assay in excess of industry standards for purity. All of our gemstones are guaranteed genuine unless otherwise noted as lab created. Thank you so much for your business!

---