MADE IN ITALY 925 STERLING SILVER 9mm FIGARO CHAIN 18- 30 BOY GIRL MEN WOMEN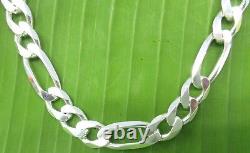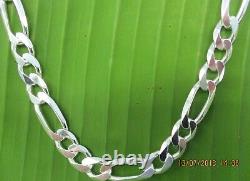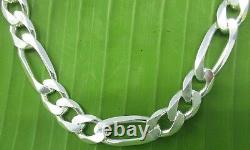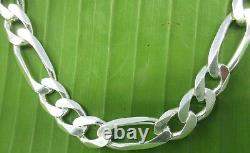 100% REAL 925 STERLING SILVER. Item: 9mm FIGARO CHAIN NECKLACE 18" 20" 22" 24" 26" 28" and 30. (45cm 50cm 55cm 60cm 65cm 70cm 75cm) - BOY GIRL MEN WOMEN. Jewellery style : FIGARO chain (FG250). 18 inches(50 cm), weight = 50.10 grams. 20 inches(55 cm), weight = 54.90 grams. 22 inches(60 cm), weight = 59.70 grams. 24 inches(50 cm), weight = 65.20 grams. 26 inches(55 cm), weight = 71.70 grams. 28 inches(60 cm), weight = 76.90 grams. 30 inches(75 cm), weight = 82.80 grams. 925 sterling silver (92.5% pure silver) - "925" stamped for authenticity. All advertised 925 sterling silver jewellery are REAL 925 sterling silver, not plated.
Please be aware of sellers trying to sell silver plated but advertise as 925 sterling silver. I personally take all photos of the items and I don't use any fancy softwares to enhance/alter the images of the items, therefore what you see is what you get. Almost all of my items are enlarged to show details but the true size image next to the ruler is always included. I try my very best to describe the items in the description section, so please read it carefully, if you need any further information don't hesitate to contact me.
I don't have the jewellery tools to measure the items thickness, width etc... But i always include the ruler in the photos for you to have some ideas about the size of the items in real life. Please contact within 3 days and.

---