Navajo LEON MARTINEZ-Impeccably Made-Kingman Turquoise 925 Concho Belt Buckle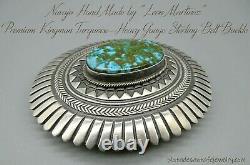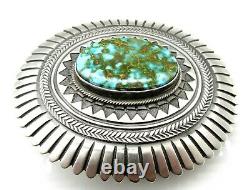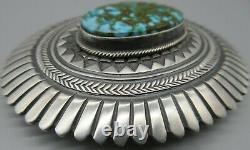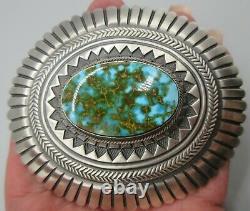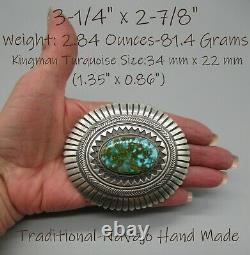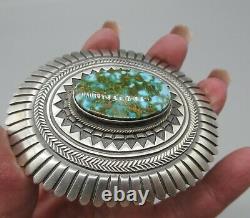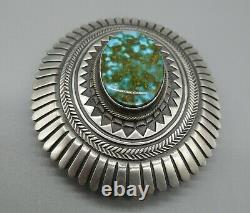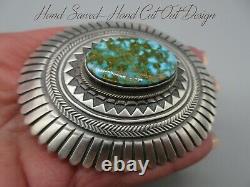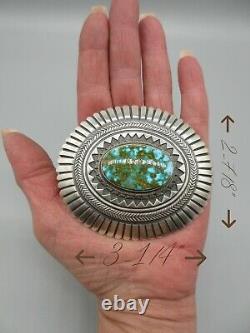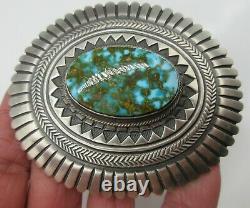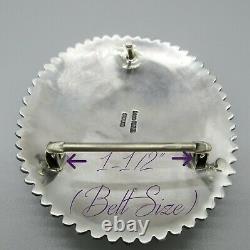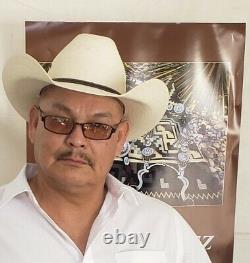 Only men know what men like & what better artist to give you a great looking-perfectly made belt buckle, but from a guy whose a cowboy & a man himself! And for you manly men, who are the type where "quality accessorizing" is important in order to complete your western style, then this buckle can't help but be a wonderful addition! It's outrageously gorgeous & extremely well made & for those that know me, know that quality workmanship is at the top of my list when it comes to what I hand pick to carry..
The 1st thing that caught my attention, is all the obvious hand work & all the hand filing that went into this!! This took some days to make & is a buckle that can't be made in a matter of hours. I couldn't imagine how many files Leon went through to make this, but by looking at it I would say quite a few!! Each one of these shapes, from the zig-saw pattern that follows just outside the stone, to the braided style design, to all the grooves on the outer edge & then lastly, giving each of the latter the rounded/scalloped form tips, are all formed by hand!
The buckle is highlighted with a dynamite cut of "Gem Quality" Kingman & has both green & blue colors throughout & is very webby with brown matrix & is a pretty good size oval cut. Made of a super heavy gauge sterling that is literally non-bendable & is heavy & strong. (Weight below) My guess is this is at least 8-10 gauge sterling.
The finishing is superb & is finished in a satin, matte, oxidized vintage revival finishing, so there will be no need to polish! The hook is made for a 1-1/2 belt. It has a quality that can be passed on from generation to generation! So whether your a Tucson gallery owner, Texas Oilman or banker, or just one who loves a more casual look & wears nothing but denim & boots, this will definitely be a buckle that will say a lot about the style you own!
STONE: Natural Premium Kingman Turquoise. STONE SIZE: 34 mm x 22 mm (1.35" x 0.86").
MEASUREMENTS: 3-1/4" Wide X -2-7/8" Tall. WEIGHT: 2.84 Ounces - 81.4 Grams.
BELT SIZE: Up to 1-1/2 Belt. STYLE:Navajo Made Turquoise Concho Belt Buckle. Will be sent with a mandatory required signature Confirmation. Unless the buckle is defective(Which it isn't) there is now a 3% charge that will be taken out from the total price you paid if there's a return.. This applies to buyers remorse, too big, too small, don't like it, etc.. This is one good reason why you should go over measurements before purchasing & read all the detail I provided you with & ask any questions/concerns you may have beforehand. Nothing can be said about Leon without mentioning something about his family ties. 1st influenced by their mother & father, (who were also artists) Leon's immediate siblings happen to be "CALVIN, RICK & TERRY MARTINEZ" & his sister is the well known "READDA BEGAY" who is married to Ernest Begay Sr. (another well known, sought after artist) Leon is also the cousin of the late & much missed artist "KIRK SMITH".. Each of these family members are sought out for their unique traditional Navajo jewelry they bring to the table & you can see many similarities in their work. Just like he took the late. Under his wings, it was the late.
Who also laid the path for Leon & taught him a lot of the ropes when it came to taking the art of Navajo jewelry to a whole new level. Having developed his own''signature style, Leon has been at it now for over 30 years. Although a few have copied this style, it was Leon who was the 1st to come up with this very identifiable style of design. What you're going to get in Leon's jewelry are time consuming made pieces, where they're made with presicion & excellence & where literally everything that's apart of the piece, is still done with the power of the hand, just like his ancestors did..
Everything will be made from scratch, with nothing being used by pre-made commercial manufactures.. He's all about using heavier gauge sterling, using only the highest quality natural stones available on the market & then each are hand finished in a "Vintage Revival" style finished sterling. Earning ribbons at the Navajo Nation Fair in Window Rock, AZ & Gallup Ceremonial, his work also has been featured in the highly read "Cowboys & Indians" magazine & his jewelry exhibited in Museums..
Leon's work is highly collectible & demands top dollar. The item "Navajo LEON MARTINEZ-Impeccably Made-Kingman Turquoise 925 Concho Belt Buckle" is in sale since Wednesday, December 2, 2020. This item is in the category "Clothing, Shoes & Accessories\Men\Men's Accessories\Belt Buckles".
The seller is "platadesantafejewelry" and is located in Santa Fe, New Mexico. This item can be shipped to United States.
Accents: GEM GRADE KINGMAN TURQUOISE
Department: Men
Style: WESTERN BELT BUCKLE
Type: NAVAJO MADE TURQUOISE CONCHO BELT BUCKLE
Features: MATTE/SATIN-VINTAGE REVIVAL
Color: STERLING SILVER
Year Manufactured: 2020
ARTIST: LEON MARTINEZ
TRIBE: NAVAJO
STONE: GEM QUALITY NATURAL KINGMAN TURQUOISE
Brand: LEON MARTINEZ TURQUOISE BELT BUCKLE
Fits Belt Width: 1-1/2"

---