PILOT NAMIKI Silvern Tsumugi Silk Thread Sterling Silver 18K Nib Fountain Pen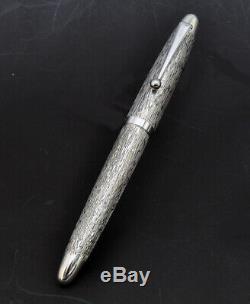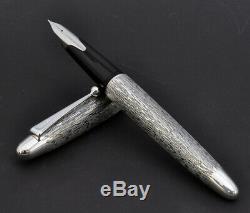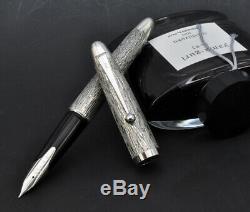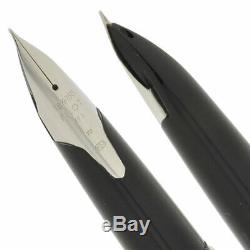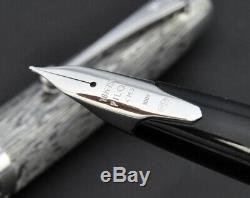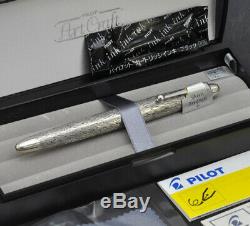 You will not have to worry about the pen's problem, we will take care of your pen. This pen is the Pilot Silvern Sterling Silver model: Tsumugi Silk Thread version. This pen's design brings back all the image of Old Japan Beauty. The pen came packaged in the standard Pilot pen case. The pen was sealed in a polythene wrapper with a hang tag on the clip as is the usual practice with Pilot pens.
I felt neutral about the pen, but when I cut open the wrapper and pulled the pen out, the true luster of the pen began to show. The surface of sterling silver is engrave with many small straight lines, make the design looks like hairlines pattern. Because of the pattern the color of the body is not so shiny, but it has its own beauty which I really like about. When you uncapped the pen, a 18kt Gold nib with Sterling Silver coated layer shows up.
This 18Kt is totally different with all other Pilot nibs but it gave same smoothness and good feedback. The Nib and writing experience. Generally Pilot nib sizes run one size smaller than their western counterparts. The nib design as I mentioned earlier is plain and simple, no ornate engravings or scroll work here.
The nib sports a different logo than usual and it would be nice if anyone can shed some light on it. A stellar performer out of the box! The feeder even though resin does its job very well, regardless of the material the thing that counts is who is making the feed, Pilot feeds have been outstanding so far in my experience.
However posting and locking the cap (more on that later) yields a very comfortable and balanced feel and the added length helps. Collection: Silvern Sterling Silver 925. Body Material: Sterling Silver 925. Nib Material: 18K Gold Sterling Silver Plated.
Nib Size: F (Fine), M (Medium). Refill Mechanism: Converter (CON-20, CON-40), Proprietary Cartridge. Compatible Inks & Refills: Ink Bottle and Proprietary Cartridge. Diameter - Max: 11.5 mm. Special Deals - Discount Campaign.
SAILOR King of Pen Ebonite Gold Trim 21K Gold Naginata Togi Nib Fountain Pen. SAILOR 1911 Large (Full size) Demonstrator Fountain Pen - White Gold. SAILOR Limited Edition Profit Pro-Color Demonstrator Stainless Steel - Aqua Blue.
PILOT NAMIKI Custom 742 14kt Gold #10 Nib Fountain Pen - Black. Sailor Profit Junior Clear Transparent Demonstrator Fountain Pen Limited Color. SAILOR Limited Edition Pro Gear Aqua Blue Transparent 21K Gold Nib Fountain Pen.
PILOT NAMIKI Silvern Tsumugi Silk Thread Sterling Silver 18K Nib Fountain Pen. PenSachi - Writing The Happiness.
Sachi means Happiness in Japanese and the name says it all. Your pen can bring you happiness and we are here to bring you that pen. All of us at PenSachi love to make you happy by delivering to you the best writing instruments and the most satisfactory writing experience ever. My name is Ken Katsumoto. I would like to tell you our story which led us to the idea of making PenSachi today.
It is all about passion, experiences and love when talking about our journey to build up PenSachi. I have come to know about writing as an interest, a hobby, a passion, a dream.
Now, writing and writing instruments have become my whole life journey. My dream is that I could start a business which would make people experience, enjoy and be happy. Thanks to my journey to many countries in the world in the past, I was so lucky to have friends who also share with me the same interest and passion in writing instruments. They have come all the way to Japan and started this new journey with me. It took us a year for preparation and in 2014, we officially announced the foundation of PenSachi company.
Through the provision of amazing writing instruments, we believe we can bring happiness to people from all over the world. As I, myself, have gained happiness thanks to my fountain pens at different stages of my life. When I was at my 20s, I had been an amateur freelance writer with a passionate interest in handwriting and fountain pens. This interest was really a treasure I inherited from my grandfather who used to be a practitioner of Chinese and Japanese calligraphy (many young Japanese do not know about it nowadays).
I still kept the hobby of writing and collecting fountain pens even after I moved to the West for study in 2000. I found out how lucky I was to be in Japan as it was not that hard to get a fountain pen or brush pen for calligraphy compared to in Europe and America. However, it was such a destiny as I could meet friends there who also share the same interest in writing instruments. It was somehow different in the way we think and practice calligraphy because of national identity; but my fountain pens really earned me good friends.
After graduation, I came back to Japan and worked for a company which actually has no relation to my hobby but it never stopped my interest in writing and calligraphy. Before, writing, to me, was some kind of habit, joy and experience.
Life as a Japanese business man made me learn about it with manners which link closely to my career. I took a chance to visit many corners in Asia for volunteering for 4 years and it was a truly great experience when I could see writing with a totally different view. Far to the Northwest of Vietnam, for many children in Mai Chau or Sa pa, owning a good pen can make them more than happy. For many elderlies who live in remote villages of China, having a good brush pen to practice calligraphy becomes such a fancy wish of their whole life. It may be quite easy for of us to have writing as a daily hobby but for some, it is really a dream. A pen symbolizes imagination, creativity and passion. It is really fun to see children stretching out their imagination with a pen for the first time, Just that can make a happy day for a parent. FREE SUPPORT: Yes, you are all free to ask us 24/24 through any channel.
We will be happy to receive your contact and definitely help you out at our best. We directly obtained them from manufacturers with original parts and accessories. We make sure that you will be happy receiving your item in original package with the best and authentic quality.
This is a special policy that you can only have with PenSachi. It is provided in product technical specifications. We will help you to send your item(s) to the maker for a repair or replacement.
At PenSachi we guarantee that all products are 100% authentic quality goods. It is unfortunate that you want to return the item for any reason. For a pen, it is considered as used if the ink has run through any part of the pen, the included cartridge, converter or piston filler is not intact and touches ink, also all tags and accessories are intact and not removed. For replacement, since a replacement might not be available in stock at that moment, after checking we will let you know whether you can have the same item or there are other options for you to choose.
Return item model number or name 4. Condition of the item (please attach the pictures too). The item "PILOT NAMIKI Silvern Tsumugi Silk Thread Sterling Silver 18K Nib Fountain Pen" is in sale since Thursday, October 10, 2019. This item is in the category "Collectibles\Pens & Writing Instruments\Pens\Fountain Pens\Pilot".com*" and is located in Tokyo.
This item can be shipped worldwide.
Brand: Pilot
Country/Region of Manufacture: Japan
Designs Similarity: Conway Stewart Faber Castell Parker Platinum Waterman
Features 1: Sterling Silver 925
Features 2: Nib 18K GOLD Karat Kt Silver Plated Trim Accents
Functions Similarity: Does not apply
MPN: FK-5MS-TU
MPN 1: FK-5MS-TU FK5MSTU Made in Japan Japanese Pens Point
Other Specs: Limited Rare Brand New Collectible Classic Vintage
Pen Type: Fountain
Related models: FK-5MS-KO FK-5MS-ID

---