Solid 925 Sterling Silver Italian Greek Meander Key Chain Necklace Made in Italy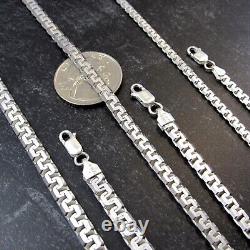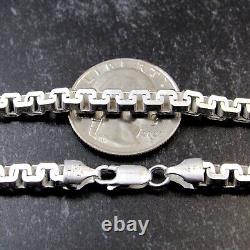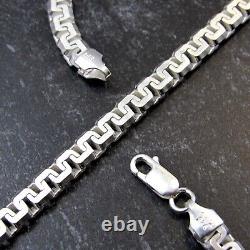 Solid 925 Sterling Silver Italian Greek Key, Greek Meander Chain Necklace, Made in Italy. Choose your width: 3MM 4MM 5MM. Choose your length: 18" 20" 22" 24" 26 Inches. Our chains are guaranteed authentic 925 sterling silver. Sterling silver is nickel-free, non-magnetic, and hypoallergenic.
Each chain is quality stamped 925 and has an Italy hallmark. These unique chains are modeled after the Greek key, or Greek meander design.
Resembling a primitive key or the twists and turns of the ancient Meander river, the Greek key chain is comprised of a long, continuous line that repeatedly folds back on itself. Suitable for both men and women, these chains are pretty chunky and heavy for their size.
Diamond cut and made in Italy of solid sterling silver, the chains secure with a lobster claw clasp. 3MM: 18"=16.6 grams, 20"==18.8 grams, 22"=21.1 grams, 24"=23.1 grams.
4MM: 22"=35 grams, 24"=40 grams, 26=42 grams. 5MM: 22"=54 grams, 24"=59 grams, 26=64 grams. Renegade Jewely has been in business since 1999 with an outstanding record of quality and service. All of our silver and gold jewelry will fire assay in excess of industry standards for purity. All of our gemstones are guaranteed genuine unless otherwise noted as lab created.
Thank you so much for your business!

---