Solid 925 Sterling Silver Men's Rombo Double Curb Link Chain Made in Italy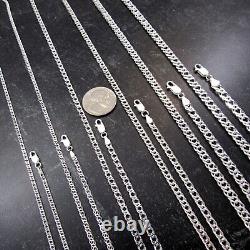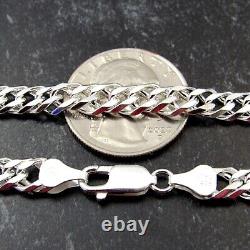 Solid 925 Sterling Silver Men's Italian Rombo Double-Link Curb Chain. Choose your width: 2.5MM 2.9MM 3.8MM 4.2MM 5.8MM 6.5MM. Choose your length: 7", 8", 9", 16", 18", 20", 22", 24", 26", 28", 30 Inches. Our chains are guaranteed authentic 925 sterling silver. Sterling silver is nickel-free, non-magnetic, and hypoallergenic.
Each chain is quality stamped 925 and hallmarked "Italy". The rombo double link chain is actually the classic curb chain, but with double the links, interwoven together. This makes the chain thicker and a bit more showy than your regular curb link chain. Suitable for women in the thinner widths, this is a great layering chain. The silver rombo is a classic masculine design in the chunkier widths.
Available in a wide range of widths and lengths to suit the needs of your fashion wardrobe! 2.6MM: 7"=1.6 grams, 16"=3.5 grams, 18"=4 grams, 20"=4.4 grams, 22"=4.8 grams, 24"=5.3 grams, 30=6.6 grams. 2.9MM: 7"=2.3 grams, 8"=2.6 grams, 16"=5.2 grams, 18"=5.9 grams, 20"=6.6 grams, 22"=7.2 grams, 24"=7.9 grams, 30"=9.9 grams. 4.2MM: 7"=5 grams, 8"=5.8 grams, 16"=11.2 grams, 18"=12.5 grams, 20"=13.7 grams, 22"=15.5 grams, 24"=16.6 grams, 30"=21 grams.
5.8MM: 7"=9.1 grams, 8"=10.4 grams, 9"=11.7 grams, 16"=20.8 grams, 18"=23.4 grams, 20"=26 grams, 22"=28.6 grams, 24"=31.2 grams, 30=39 grams. 6.5MM: 7"=10 grams, 8"=11.5 grams, 16"=23 grams, 18"=26 grams, 20"=29 grams, 22"=31 grams, 24"=34 grams, 30"=43 grams.
Renegade Jewely has been in business since 1999 with an outstanding record of quality and service. All of our silver and gold jewelry will fire assay in excess of industry standards for purity.
All of our gemstones are guaranteed genuine unless otherwise noted as lab created. Thank you so much for your business!

---