USA-Made Sterling Silver Cuff Bracelet with Peace Comes From Within by Hanni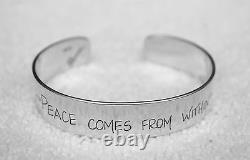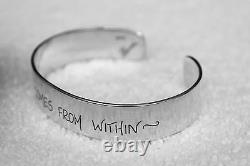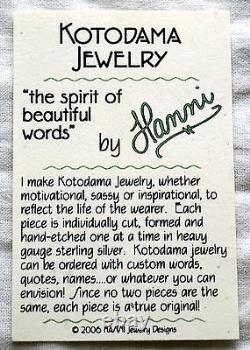 Well-known jewelry artisan, Hanni Yothers, has created this inspirational cuff bracelet. This heavy-gauge sterling silver cuff is etched with "Peace Comes From Within".
Designed to fit most wrists. Sturdy enough for everyday wear yet elegant enough for dressy occasions. Signed and quality stamped on the inside as well. Makes a wonderful reminder slow down and to find calm and peace on the inside.
Perfect for birthdays, graduations, congratulations, and retirement gifts. Dancing to the Spirit of the Wood is an artisan gift shop. We offer gifts that have been hand-crafted by artisans from all over the United States. Many of the items were crafted especially for us and are one-of-a-kind. Check out my other items.

---